Hi Ashers! Another week goes by and new events in London to check out! Got a great event to add? Let us know in the comments!
London Fashion Week
When: Feb. 14th-18th
Where: Various locations
It's that time of year again… Fashion Week! Whether you're interested in high fashion, sustainable fashion, cutting edge fashion or just want to check out the celebrities these events are for you! Even if you don't have tickets for some of the exclusive events you can watch the live stream with friends and show off your knowledge in your A level art course! Check out the full schedule and event details at: http://www.londonfashionweek.co.uk/
Watch an Academy Award Movie
With less than a month before the 86th Academy Awards now is your chance to watch these amazing films. Check out the Best Picture nominees: American Hustle, Captain Phillips, Dallas Buyers Club, Gravity, Her, Nebraska, Philomena, 12 Years a Slave, The Wolf of Wall Street. You be the judge…which should win?
The Sunflowers

When: Until April 27th
Where: National Gallery
The new Sunflowers exhibition brings together two of Vincent van Gogh's Sunflower paintings in London for the first time in 65 years. The second Sunflower painting is normally on view at the Van Gogh Museum in Amsterdam. This widely popular exhibition shows the two paintings side by side and also includes new information about Van Gogh's painting materials and technique. For more information visit: https://www.nationalgallery.org.uk
Wildlife Photographer of the Year Exhibition
When: Until March 23rd
Where: National History Museum
Every year the Wildlife Photographer of the Year exhibition at the National History Museum is a great hit! The photographs feature locations from around the world and show new talent alongside award winning photographers. The competition includes awards for both adults and young photographers and is now accepting applicants for next year's WPY exhibition! So stop by in the last few weeks and get inspired before taking your own pictures to enter. For more information about the exhibition and entering next year's competition visit: http://www.nhm.ac.uk/visit-us/wpy/index.html
Dale Chihuly: Beyond the Object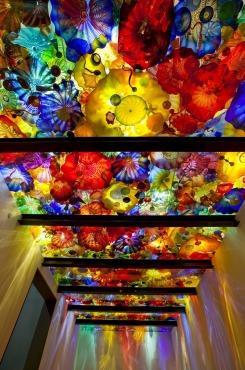 When: Until Apr. 5th
Where: Halcyon Gallery
Ever seen the V&A's grand glass chandelier and wondered who created the piece? Well the answer is Dale Chihuly and the Halcyon Gallery is displaying this widely popular American artist over the next few months for FREE! The exhibition will explore Chihuly's idea of space and perfectly follows up his commission by Harrods for a new amber and gold chandelier.